Everything from a single source - for your animal patients: wound care, bandages & bandages, hygiene as well as medical supplies, feed supplements for horses and animal skin care products.

On the basis of many years of experience and in direct cooperation with our extensive network of specialists, we are constantly developing our products and brands - always looking for innovative brands and economical solutions with the aim of meeting your needs and our own demands for progressiveness and sustainability even better meet.
Our portfolio, which is largely tailored to large animals and cloven-hoofed animals, covers not only the topics of wound treatment and fixation with bandages and bandages, but also the areas of hygiene and practice requirements.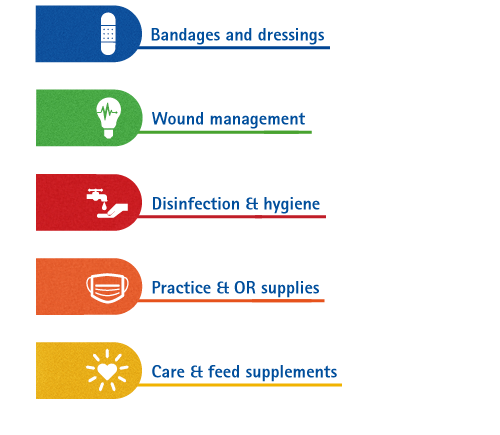 EQUIMOLL® a brand that stands for tradition, competence and premium quality
in the field of horse injury treatment. EQUIMOLL® has been part of our ROGG Health Innovation brand family since 2017. Since then, we have been able to steadily expand our range around our best-known product EQUIMOLL® by developing high-quality products in the area of bandages and dressings. 
The highest quality standards demanded by our partners and our EQUIMOLL®products guarantee tried and tested developments, responsible, sustainable use of materials and consistently first-class quality.
In 2019, the young brand benartis joined the portfolio of our partner company, Hemel Vertriebs-GmbH, in the veterinary sector and is marketed by ROGG. benartis combines our demands on quality and effectiveness with groundbreaking, trend-oriented functionality and an excellent price-performance ratio. The health and well-being of the animals are our top priority.  
At the same time, smart, intuitive materials ensure convenient and easy handling. Materialien für eine bequeme und einfache Handhabung.